Created By Home Improvement Experts, For Home Improvement Businesses!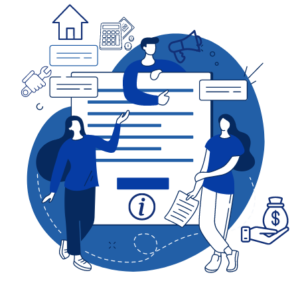 Founded in 2018, Pure Finance Group was established to make lending easier for business owners and homeowners alike. Providing lending services in a variety of different fields, we have the expertise needed to help you get the financing you need for your business. What makes us unique is our tailored service, providing customers with speed and delivery when it comes to their lending needs. As experts in the industry, Pure knows that speed is key to successfully converting a lead into a customer. We are here to optimize sales by tailoring finance plans to best suite your business needs. No company is too small or too large for Pure Finance Group. We are an all-in-one lending service, here to help your company thrive. We offer loans, payment processing, personalized support, and reporting to support your day to day operations. We act as an extension of your business, boosting sales by offering quick in-home financing options, that reduce unappealing lump sums, into affordable monthly payments!
A Lending Platform Designed To Help Bring More Money Into Your Business
Our success is measured by the success of those we serve. Pure Finance Group is a digital lending platform that offers home improvement loans, solar energy financing, and payment processing. Our customers are both contractors and their customers. Our fully automated technology offers instant approvals on home improvement loans up to $100,000, helping homeowners and contractors alike translate expensive home improvement projects into very low monthly payments that can ultimately be paid over time. Unlike the other digital loan platforms, Pure Finance Group is designed to improve our customers' lives through innovation, convenience, and amazing customer service. We are here to support and enhance your existing business by understanding and integrating into your day to day operations.
Disrupting The Home Improvement Industry For You
We don't provide products or services, we offer a partnership. At Pure Finance Group, you are guaranteed tailored lending solutions from experienced teams who can help your business succeed. Pure Finance Group offers programs that start at 4.99% with terms that start for up to 15 years, no fee options for those with a 600+ FICO score, staged funding, buy down options, and new equal pay, and 12 and 24 month promotional options as well.
Find out how Pure Finance Group can help you. Give us a call (410-401-4957) today to see how we can help you get the lending you need.