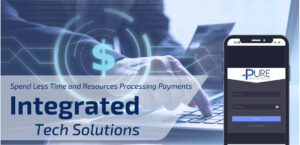 Pure Finance Group has partnered with two of the largest back-end payment technology platforms in the world to provide our clients with a vast amount of payment processing options to reduce costs and increase efficiency. We take the approach of not only helping our clients with their financing needs, but also the majority of their Accounts Receivable including credit, debit, AND ACH payment acceptance to maximize cost savings and give them time back to focus on growing their business. We understand that accepting credit and debit cards is a HUGE cost to any business large or small and are here to help.
We have built an all-in-1 payment processing solution that is custom-designed to reduce the cost and time associated with collecting customer payments. Not only does this address high processing fees, but it also streamlines payments at the point of sale.
lowest interchange fee guaranteed every time
custom payment collection webpage
credit, debit, and check processing 
reporting dashboard
invoice building and tracking
restricted user permissions for your entire team
easy integration
Approaching Payments Differently
Whether a business requires a simple payment solution or complex software integration, we can easily fulfill any merchant's credit card payment processing needs. The goal is not only to help our clients with payment processing but to build programs that help them save money on as many financial fronts as possible. Our solutions are built around four main concepts: security, transparency, service, and integration.
Security

: Pure Finance Group utilizes software and hardware platforms to provide businesses with the protection they deserve. We protect sensitive payment information with point-to-point encryption (P2PE) and ensure all of our clients are processing in a secure and PCI Compliant manner, safeguarding them from fraud and financial loss.

Transparency

: Providing our clients with transparent and very detailed information for all of their business transactions is key in helping them understand where their true cost is and how to avoid overpaying.  We customize each solution based on their specific method of payment acceptance through –
Interchange Optimization – receive the lowest Interchange Rate possible EVERY TIME.
Extremely Competitive pricing structure based on relationship
Cash Discount Programs
Next Morning or Instant Funding
Much more…

Service

: Servicing our clients is what sets us apart from the competition.  When we onboard new customers we do not just point them to an 800#, but actively manage and nurture the relationship daily ensuring there is never a time when they don't have access to answers, advice, and guidance when they need it most.  While we do have 24/7/365  phone support in place, our approach is to have our local teams as the main points of contact to give our clients access to large-scale and sophisticated payment services with a personal touch and connection.

Integration

: We are particularly proud that we have such extensive partnerships with our processing platforms that help ensure our clients can integrate their payments into their existing or new CRM, ERP, Accounting Software, POS, or e-commerce platform.  Our goal is to cause little to no disruption in their business moving to us while providing outsized benefits in the process.
Want to Learn More?
Pure Finance Group makes credit and debit, AND check payment processing simple, straightforward, and cost-effective. Providing a recent monthly processing statement from your current processor and letting us know how you process your payments allows us to give you a personalized fee proposal that is clear and will hopefully add huge value and cost savings to your business. 
Get In Touch To See How Much You Could Save:
Already A Customer? Contact Customer Services
Call
During Business Hours: 410-401-4957
Non-Office Hours (24/7 support): 887-828-0720
Email